The Creation
Kay Cleaves had been working as a leasing agent and Realtor for 9 years when she realized there was a major flaw in the Chicago rental market: lack of easy access to objective, critical apartment information for renters.
When Kay realized it was taking her up to eight hours to assemble a clear picture of an apartment for her clients, she decided it was time to take off her Realtor hat and put her computer skills to work. The end result was the RentConfident research engine.
The Industry
When someone buys a house, they have inspectors and attorneys to review everything. When a landlord brings in a new tenant, they have attorneys to review the lease and credit checking companies to screen their tenants. Renters pay the same or more than homeowners for their housing, but they have no similar allies.
Without the help of experienced professionals, it's easy for renters to choose apartments that have hidden problems, such as pending foreclosures, known structural failings, unpaid water bills or a history of excessive courtroom activity. RentConfident seeks to protect Chicago renters from such problems by providing them with comprehensive, professionally researched reports and training.
The Data
The open government movement has allowed renters access to a huge amount of public data. In fact, the abundance of public data makes it nearly impossible for someone outside the rental industry to keep track of it all.
Our research shows that 75% of renters consider building code violations to be important. However, while 90% of apartment hunters reviewed price and location, only 5% looked at building code violations before signing a lease. Renters are busy people. The scattered nature and complicated language of open data make it too time consuming for most renters to do the necessary research on their own. We want to help renters find and understand the details that many landlords and agents will try to hide.
The Company
RentConfident was created based on the belief that renters should have easy access to all the factors that affect their choice of housing. Our research engine allows us to dive deep into the sea of data and rapidly assemble a clean, comprehensive report about any rental housing in the city of Chicago. We allow renters to go beyond the basics of price, looks and location. Our reports give them a neutral snapshot of their chosen property, from architecture to zoning.
Neutrality is critical to our business. We certainly want to make renters aware of some of the more unsavory practices of certain property owners and managers. We also want to alert them of excellent landlords, efficient property managers and well-maintained buildings.
We aren't an advertising company. We aren't realtors or agents. We won't just tell you one side of the story like some of the opinion-based review sites. Landlords cannot pay us to improve their rating. We want to use our insider experience to give you the whole story of your new apartment.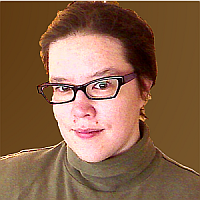 Kay Cleaves
Kay has been involved in the Chicago residential rental industry as an agent and property manager for over a decade. She assisted with over 1200 rental transactions during her time in the field. She spent two years as the author of real estate blog StrawStickStone, which focused heavily on landlord-tenant matters including market forecasts and legal compliance. She is a self-taught web developer who has been building websites and web applications since the late 1990's. She is the developer of the RentConfident research engine.
She has a unique talent for identifying the overarching patterns that bind together different disciplines, finding hidden connections between seemingly unrelated data points. She enjoys by the process of piecing together a property's history based on available public information. RentConfident stems from her enthusiasm for sharing these histories, combined with a belief that property data should be available to any resident, regardless of whether they are renting or buying, with an agent or on their own.